Here in Brazil, football (soccer for the North-Americans) is a religion. Supporting a club is not only a matter of sport: it's a passion for life, it's adrenalin, it's heart, it's love/hate, it's actually a sort of religion.
No wonder we have so many problems with fights and even deaths among the most fanatic supporters, the so-called hooligans (UK), ultras (Italy), barrabravas (Argentina) or torcidas organizadas (Brazil), whatever you name them.
But there's something else, something that we can't even define, something that makes us going to every match, scream like insane people, come back home and sit down on a computer to write about that passion in the internet. We actually ARE like that, we live and breath this passion. But it's not an ordinary love, it's something stronger for the club of our hearts, São Paulo FC.
Our club is the owner of the biggest "private" stadium of the world (the biggest ones are not owned by clubs), the third biggest fan base of supporters in Brazil and it "features" the most glorious trophee room in Brazilian football history. Because of this passion we founded Dragões da Real back in june of 1984.
Dragões da Real is a group of fanatic supporters that follow SPFC wherever they go, whenever they are playing. We have around 20,000 fanatic members with personal IDs to be identified as Dragões da Real members in the stadium."
In the stadium we always have big and giant flags, colorful smoke, a giant SPFC uniform and of course a lot of noise from our drums section (we have around 30 drum kits of all kind). Since 2000 we also have our own Escola de Samba (Samba School) to go to the annual parade in the Brazilian Carnival.
Just in case you don't know, São Paulo FC was founded back in the 1930s and it was three times world champion, three times Libertadores champion, six times champion in Brazil and tons of times champion in the São Paulo state. Our stadium Morumbi is a 100,000 people place and our anthem is one the most beautiful ever composed.
Also, the amount of São Paulo F.C. supporters fan base is the 3rd biggest in Brazil and the 4th biggest in the whole South America. The latest Official Confederation Research had realized we have around 18 millions supporters worldwide.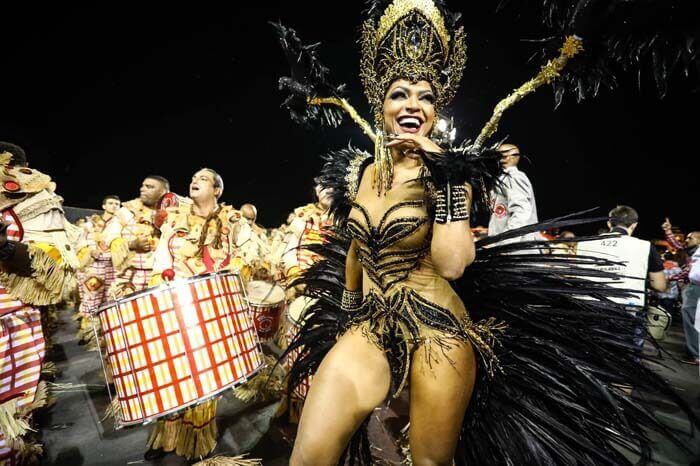 DRAGÕES DA REAL SAMBA ACADEMY
The Brazilian Carnival is one of the most important national events since the last century. Carnival and football are sort of Brazilian institutions. So Dragões da Real established its own Samba School ("Escola de Samba") in 1999.
After months of planning, in March 17th, 2000, Dragões da Real Samba School was founded with no budget but the greatest will to make this dream come true. There was no place for rehearsing and practising ― so everything was done in the streets, in front of the Torcida Dragões da Real office.
Then we had this fantastic help from Lavapés, the oldest Samba School in São Paulo. They let us use their big saloon and helped us with the first days of the new Samba School. Also Torcida Independente (another group of SPFC supporters) were extremely helpful back then.
With all this help and the passion of Dragões da Real members, we were the winners in the first carnival in 2001, the very first time we were in the parade."
We were in Division 4 (only for newcomers) and then we went to Division 3. In 2003 and in 2004 Dragões da Real won again and went up two divisions in the league. We are not aware about any other Samba School "climbing" divisions so quickly after the foundation. We're the only one!
Nowadays Dragões is in the main Carnival League in Brasil and its parade is countrywide broadcasted every year.